"Where there is a will there is a way…" (Theodor Herzl, the father of the State of Israel 1902, 46 years before the official formation of the state) "and great things eventually happen …" (Moshe Sarfaty, April 2018)
There are not enough warm words to describe the Serbian start-ups ecosystem. The mentioned visit is not Moshe and Krypton Venture Capital's first visit to the country and is part of Krypton's ongoing search for global partnerships and investment counterparties.
As previously said, The Republic of Serbia wants to become a player in the global tech ecosystem and everyone involved feels and behaves like it is his own personal mission.
The visit was possible only due to the great support of the Ambassador of the State of Israel and the Republic of Serbia to Belgrade H.E. Alona Fisher-Kamm. The Israeli Embassy and its great team consisting of Jenny Sedov, Deputy Head of Mission, and the one and the only Danijela Pejić, Economic Officer, who has been working tremendously hard on building and improving the long run technological relationship between the countries and bringing Israel's and Serbia's impressive cooperation to new heights.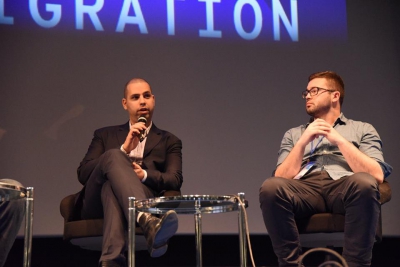 Krypton and Moshe's last visit was part of the INAT Summit, which is the #1 educational and networking event in Southeast and Central Europe. This summit is a place where the younger generation learns to succeed 10x faster in global IT business, builds international partnerships, and acquire skills on how to make more money in the digital economy.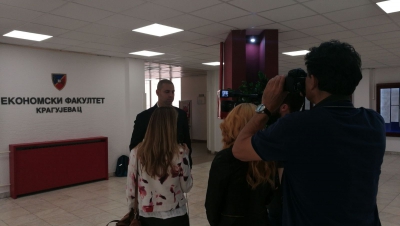 The four day journey started with a visit from the Israeli delegation of Moshe Sarfaty and Gilad Uzieli to the University of Kragujevac, hosted by the Faculty of Economics and the university's generous officials Nenad Stanisic, Associate Professor, Vice Dean for Teaching and Marko Slavkovic, Assistant Professor, Vice Dean for Scientific Research.
The University of Kragujevac, which is a public university in Serbia, was founded in 1976 and is organized into twelve faculties. It offers 118 study programs in the fields of natural sciences and mathematics, social and human sciences, medical sciences, engineering sciences, and arts. Students are enrolled in undergraduate, graduate, doctoral, integrated and vocational studies. During the Israeli delegation's visit, Gilad lectured about Smart cities and Moshe gave an entertaining TED-style lecture which coached students on how to get out of their comfort zone and become successful entrepreneurs.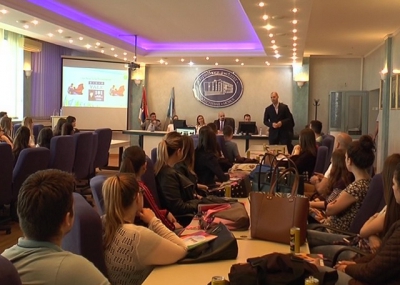 In his lecture, Moshe encouraged brave volunteers out of the students' crowd to show they are capable of getting out of their comfort zone. One of the most brave and impressive ones was Neda Bezarevic, a student at the University of Kragujevac who was brave enough not only to participate in the live demo but also to challenge Moshe in one of his entertaining tricks demonstrated during his lecture. Neda showed exactly the kind of entrepreneurial spirit required by the next generation of entrepreneurs!
After the mentioned lecture, the parties meet for an interesting discussion with Kragujevac city officials Aleksandar Stajn, Mayor's Assistant in charge of Internal and International cooperation and Miroslav Petrasinovic, President of the city assembly. Kragujevac city has put on its flag the initiative to build a strong vibrant tech ecosystem together with transforming the city to a smart city as Tel Aviv did. The flash in their eyes and their strong ambition shows just how quickly this city will become one of the key players in the global hi-tech community.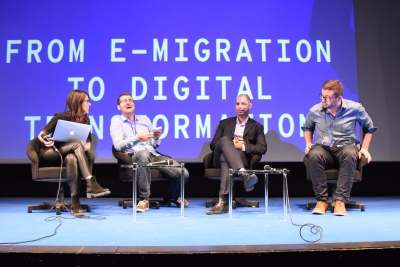 The crowning jewel belongs to Milena Milicevic Founder and CEO of INAT Center. Milena took on her shoulders the important task of educating the young generation of Serbians of more than 500 delegates on how to be prepared 10x faster for the rapid global trend of e-migration to digital transformation.
With her strong convincing abilities, Milena managed to bring together representatives more than 23 countries, 25 speakers, and more than 30 companies. An astonishing result for a medium sized organization that is growing at a rapid pace.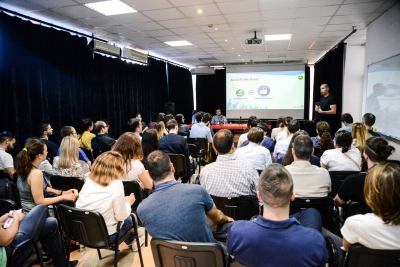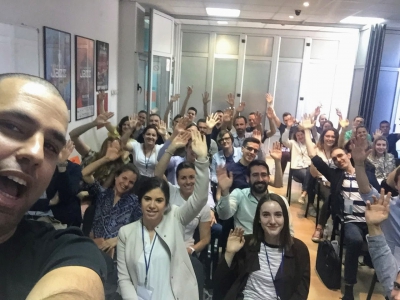 During a fully crowded schedule, Milena and her team tried to show the younger generation one major thing: The opportunity is out there and you should just take it! Milena and INAT together with their wide group of supporters is a great example of the many organizations and individuals in the country that want to help move this ecosystem further.
Today, more than ever, it is clear that the Republic of Serbia is going to become a leading power in the hi-tech scene.
As discussed with many local leaders and ecosystem players, there is no doubt the local ecosystem needs more success stories. Stories that will become possible only once the separated bodies will start working together in the same direction and not in parallel to each other.
To summarize, thank you INAT and Milena for exposing Krypton to a new younger layer of the developing ecosystem in the country and in the region. On behalf of Krypton Venture Capital team and Moshe, we are super excited for our future investments to come in the local ecosystem and for becoming part of the Serbian hi-tech ecosystem family.
Recommended external resources