One Pager/Deck: Puts your startup on our radar.
Initial Review: One of our Fund Analyst will conduct preliminary research on your startup and market.
Introductory Meeting: Preliminary meeting to get to know each other.

Competitive Map Meetings: The most important phase in our due deligence process.
Shows us market potential, go to market strategy and investment climat in your niche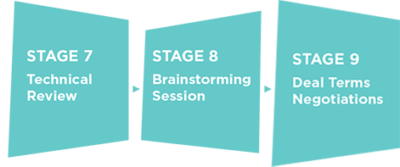 Technical Review: Allow us to evaluete the internal infrastucture and architecture of the product.
Brainstorming session: An informal sessios to think outside the box of the future cooperation and stategic partnerships.
Deal Terms Negotiations: Closing.
To help you start your Application:
Download our Krypton VC – Application Guidebook:
Download our Competitive Map Guidebook: